Editor's Note:
Do you think that the federal government statistics are accurate?
Dr.Paul Craig Roberts has written extensively on this. I refer you to his website, www.paulcraigroberts.org.
Basically in the Clinton administration they changed the way we calculated unemployment (which led to underreporting) and inflation the government had used for over 100 years. If you want to know the numbers based on the historical way inflation was calculated for over 100 years based upon today's data, see the website www.shadowstats.com of economist John Williams.
The truth is inflation is accelerating. Whether this country follows what happened to the German Republic after WWI remains to be seen.
What we also know wages are not increasing at a rate to offset the inflation. (Instead, when inflation rises it seems that some employers cut payroll.)

Look below at how food prices have been increasing and what others are reporting. Judge things by what you are experiencing. For example at the grocery store you are seeing price increases in three ways: (1) direct price increase; (2) decreasing quantity for the same or slightly higher price and (3) reformulation with cheaper ingredients and fillers.
Food prices are a faster rising sector due to many factors, i.e., the drought, 20% of our food being imported, the devaluation of the dollar, etc.
You can mitigate significantly the food inflation by locking in your prices with freeze dried and dehydrated foods. I encourage you to consider storing Thrive because it really has the best quality all around among the freeze dried food companies.
Inflation where it matters: Close to 50 percent of Americans indicate spending more on groceries and fuel this summer. Nearly one third indicate more spending on rent and mortgage payments
By myfoodbudget360.com

​
The stock market continues to move upwards ambivalent to economic indicators and the reality that inflation is permeating throughout our economy. The Fed continues to point at CPI as evidence that inflation remains subdued and this gives them the motivation to move forward with monetary policies that we have never embarked upon. We are already getting a taste of the bigger consequences including a growing low wage labor force. A recent Gallup survey found that Americans are spending more money on items that actually matter and items that consume a large portion of a household's budget. This is key here in understanding the nature of inflation. Items like housing, healthcare, food, and energy make up a large portion of spending. Yet the Fed looks at other items that consume a small part of a household's budget and balance out the overall picture. What you get is a massive understating of inflation and a stock market heavily juiced on easy money. Large pools of money are chasing real assets and crowding out regular Americans from the market.
Where inflation matters
It is interesting to see how people react to a constant feed of distorted information. The message is clear and it is one that is underplaying inflation. The tone set by the Fed is one in which monetary easing should continue to go on because inflation is simply not happening in the real economy. This could not be further from the truth.
Looking at the Gallup survey, you can find that Americans are spending more on the items that already consume a large part of their budgets: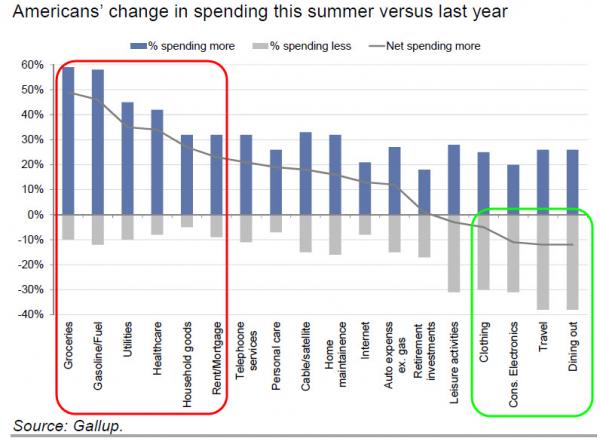 Source: Gallup, GS
​
Read More at http://www.mybudget360.com/inflation-where-it-matters-inflation-2014-data-inflation-items/